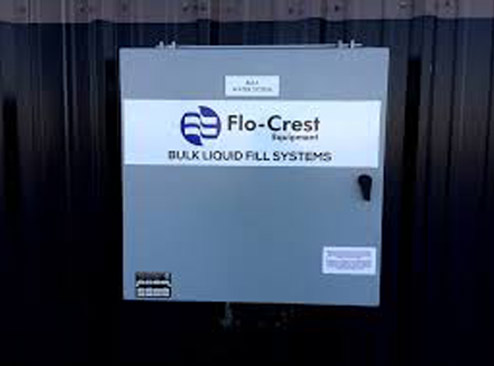 Flo-Crest Equipment has been leading the market in innovation and installed base in Western Canada for Bulk Liquid Transaction Systems for municipal applications since the mid 1990s.
In 2016 Flo-Crest developed a new SMART CARD sysem that incorporates many features and functions that our legacy systems could not support. This system is now manufactured, programmed and develpoed in house.
The Smart Card system is a paperless system that is designed to offer a Municipality a safe and cost effective method to handle bulk water sales. The card reader system activates the control and delivery of water automatically, with no money kept on site for added security.
The outlet is generally a 2.5inch Cam-Lok type connection or a 2inch or 3inch overhead fill. The size of the pipe and control valves will vary based on the required maximum flow rate. A complete system package includes all the control, and safety mechanisms to insure protection of the potable water supply from potential contamination and accurate recording of the water dispensed. The billing function is totally eliminated. All payment for water is in advance of any actual transaction. The stations are "Self Service" and operate 24 hours a day. All of this means no additional operating cost to the Municipality. The station may be installed in an existing building or a complete package can be provided to allow the control valves and piping to be insulated in a skid enclosure. There are two basic versions available: Single Outlet and Dual Outlet systems. Single Outlet will typically be used for a truck fill application (2inch-3inch piping system). A Dual Outlet system can be used for Truck and Pail applications.
Read More +
Read Less -